Please make this page full screen in order for the format to carry over. Thank you so much! Enjoy my project!
---
WHY IT MATTERS:
1. Affordable housing need
Orlando, Florida is currently the second worst in the country for available affordable housing. This is a huge problem that needs to be fixed.
2. Minimalist lifestyle and tiny houses are on the rise
There are many reasons why people are falling in love with tiny house living. They are environmentally friendly, simple, have decreased maintenance, are mobile, multi-functional, and affordable.
3. Military family housing
Military families are often forced to move often from place to place. This causes them to constantly have to pack up all their belongings and move. If they were able to be in a portable house, it would solve many of the problems they experience.
---
THE PROBLEM: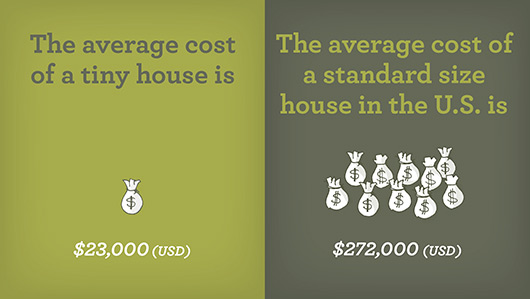 The overwhelming need and demand for affordable housing has grown tremendously in the past decade. With more people finding the minimalist lifestyle appealing, tiny houses have become extremely popular. Also, many military families have been faced with the choice to blindly move or stay where they are without their spouses. All of these factors have contributed to the idea of affordable tiny houses that are readily available. Right now tiny houses take approximately 2-3 months on average to have built. Sometimes people (military families) do not have 2-3 months to wait.
---
STATISTICS AND WHAT WE CAN DO:
Military families move on average once every three years. The average child in a military family will move six to nine times during their school career. Nearly 4.4 million households relocated between January and April of 2010. In 2008 there were 154,000 homeless veterans. In order to help bring these numbers down, the community has to step in and get involved. Those who decided to fight for our country should not have to be living on the streets. Tiny homes are the perfect solution. Military families can move with their tiny home, that way they know they always have a place to call their own. These kits would impact so many people and would help bring the numbers of homeless veterans down and increase satisfaction among current military families.
---
KIT OVERVIEW: 
This project would envision having kits that are readily available at certain stores. These kits could be put together by the customers themselves or put together by a team who works for the company. It would be a one time build as the house would be put on a trailer to be moved,  if needed. The houses would be small but provide enough space for a family. The kit would come with the house frame, the windows, doors, cabinets, and other basic necessities. Since the kit does not come with electrical wiring or plumbing so the interior fixtures can be customized by each owner, the owners would have to install after assembly. The exterior would be made out of lumber which would help ensure that it is sturdy and can withstand travel. There would also be lots of windows welcoming natural light.
---
LOCATION:
These tiny houses would be made out of durable materials allowing them to withstand most environmental conditions. This means the tiny houses would be very versatile when siting for a location. The ideal location for them would include flat land, little debris on the ground, a utility hookup site, and little wind. While this is ideal, it is not necessary.
---
DESIGN: 
The design for the tiny houses will be very simple but provide an ample amount of space and storage. They will be able to be assembled by the clients themselves which means it has to be a simple design. Each house will have a bedroom, a kitchen/living room space, a bathroom, and a loft which can be used as a second bedroom. There will be plenty of windows and doors allowing natural light to come in. Also, there will be a small porch which provides a relaxing seating area for the clients. The house will sit on top of an 18′ x 7′ trailer, allowing for mobililtyy. It will have an open concept floor plan, utilizing all of the space. It will be made out of lumber, ensuring sturdiness for travel, and drywall.
---
INSPIRATION: 
---
DRAWINGS: 
---
Models:
---
WANT TO HELP? IT WOULD BE GREATLY APPRECIATED!
Please view my google doc for more information and the sources used to create this project!
Click this image for more takeaway information!
SaveSave