From Logic to "13 Reasons Why"
This project is a requirement of the GOA Abnormal Psychology Course. Using the process of design thinking, a challenge in the world of mental health was identified, interviews and research were undertaken, and a solution prototype was developed. Below you will find information about the identified area of concern and my proposed solution. Please feel free to provide feedback on this prototype, using questions such as "How might we…", "What if….?", "I wonder….", "I like…", and "I wish." Keep the comments positive, please. For more information on the process of Design Thinking, click here.
BACKGROUND:
With the rise of youth access to popular media, creating safe and effective portrayals of suicide can only become more and more vital to the health of young people in the US and around the world. Movies, music, TV shows, plays, and the news are all sources of influence on young people, and the way they choose to portray suicide can have a major effect on viewers.
"Sometimes I think that the news and media portrays suicide as a rational or normal thing to do which should not be the case."- Anonymous
---
THE CHALLENGE:
Because of the rising popularity of modern media, the way suicide is portrayed can have a profound effect on at-risk teens. Below are two different portrayals of suicide in the media: a clip of a TV show (based on a book) entitled "13 Reasons Why", Logic's song "1-800-273-8255" (the number for the suicide hotline), and a song from the musical "Dear Evan Hansen", entitled "You Will Be Found". Where do you see differences in their portrayal? Which is safer and more effective? Why?
---
THE SOLUTION:
While it may not be completely obvious, there is a major difference between these three clips. "13 Reasons Why" has created a portrayal of suicide that essentially romanticizes it. In fact, after its airing, the number of internet searches for suicide jumped up immensely. According to CNN, "mental health experts describe the show as worrisome and point to how its relatable characters and graphic depiction of suicide can pose a health risk for young people already struggling with mental health issues". Because the show depicted Hannah's suicide in a graphic and distinct way, the search for "how to commit suicide" online rose 26% (CNN). By failing to properly provide an outlet for suicidal teens, "13 Reasons Why" may have inadvertently perpetuated the issue of teen suicide. According to an anonymous student at my school, "I feel like certain pieces of media romanticize teen suicide, and it's very rare to find something that truly reflects what it is like instead of a lighter take on it. Teens then feel like it isn't as serious as it is". This firsthand perspective gives an insight into how teens react to portrayals of suicide like "13 Reasons Why".
In contrast, "1-800-273-8255" and "You Will Be Found" help at-risk teens feel as if they are not alone, and that there is help out there. Both create a strong sense of empathy, which is a central idea to this course. In contrast to the previous student quoted, another student wrote, "Most forms of media have an underlying message that can help people going through these thoughts cope with their mind. Providing humor or relief to know that there are others who feel the same way. It can be hard to describe how one feels about their own emotions, so when there is a form of their thoughts depicted in a song, it can help them or motivate them to keep fighting." In particular, Logic's "1-800" had a profound effect on youth. In a tweet, he included the following statistics: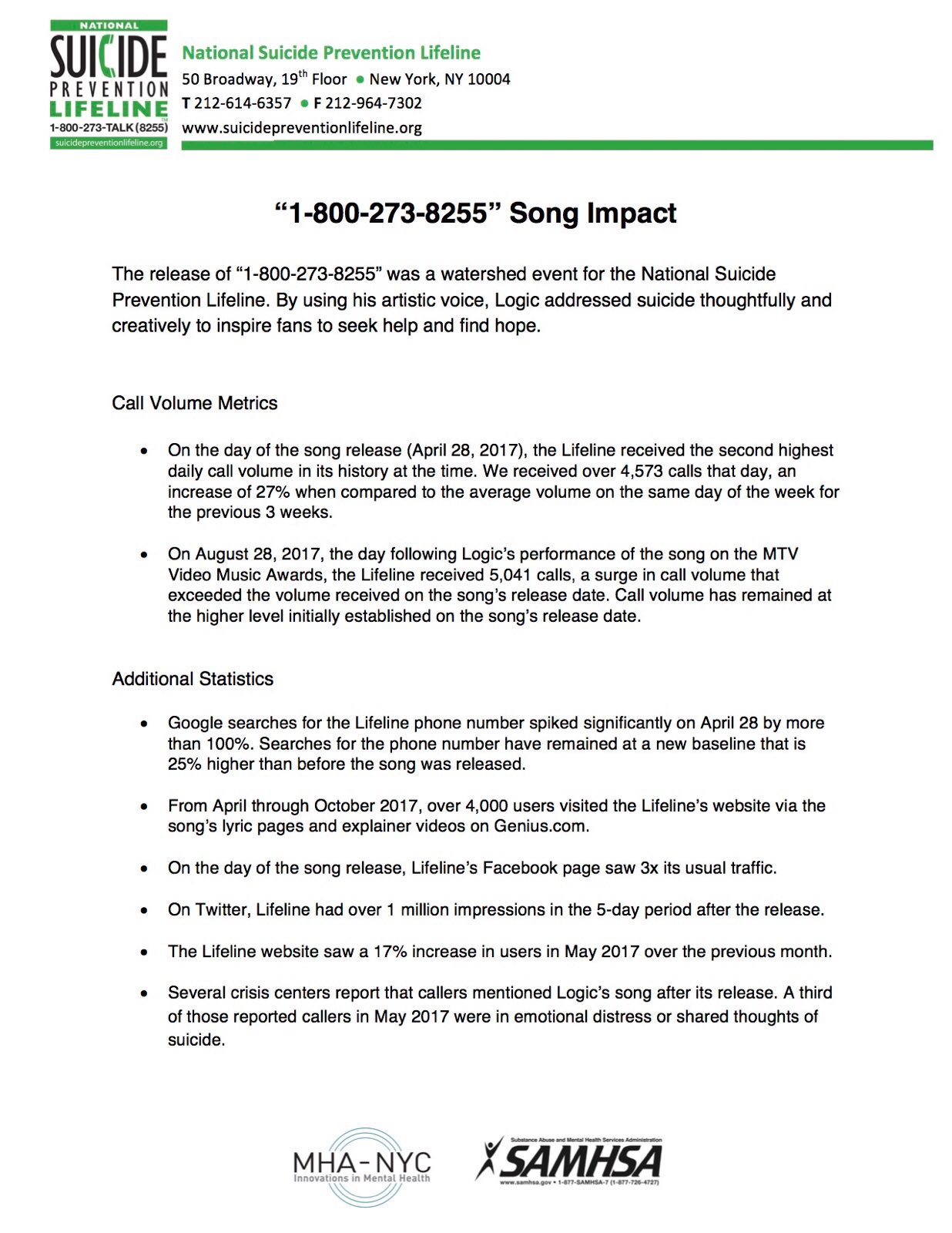 Clearly, there are very effective ways to portray suicide in ways that help at-risk teens feel that help is out there. In addition to the title of the song, Logic's music video includes many depictions of the National Suicide Prevention Hotline, in case any viewers are considering suicide. This is the most effective way to portray suicide because it provides an outlet for at-risk teens.
---
WHAT'S NEXT?
If you have any questions or comments about my project, I would love to hear them. How has the media affected your perception of teen suicide? Throughout this course, we have been practicing using the "What if….? How might we….? I wonder…..?" format for providing feedback. I encourage you to do the same.
Next, I plan to move forward by talking to the student and faculty Senate at my school about this topic. How can the school get involved in creating or filtering media so that we encourage safe and effective portrayals of the topic?
---
SOURCES CITED:
Armstrong, Megan. "Logic Tweets National Suicide Prevention Lifeline Statistics Since His '1-800' Release." Billboard, 16 Nov. 2017, www.billboard.com/articles/columns/hip-hop/8039094/logic-1-800-273-8255-national-suicide-prevention-lifeline-statistics-tweet.
Firestone, Lisa. "Suicide in the Media." Psychology Today, Sussex Publishers, 5 May 2017, www.psychologytoday.com/us/blog/compassion-matters/201705/suicide-in-the-media.
Howard, Jacqueline. "'13 Reasons Why' Tied to Rise in Suicide Searches Online." CNN, Cable News Network, 31 July 2017, www.cnn.com/2017/07/31/health/13-reasons-why-suicide-study/index.html.
Mueller, Anna S. "Does the Media Matter to Suicide?: Examining the Social Dynamics Surrounding Media Reporting on Suicide in a Suicide-Prone Community." Social Science & Medicine, vol. 180, 2017, pp. 152–159., doi:10.1016/j.socscimed.2017.03.019.