Teens Against Anorexia
This project is a requirement of the GOA Abnormal Psychology Course. Using the process of design thinking, a challenge in the world of mental health was identified, interviews and research were undertaken, and a solution prototype was developed. Below you will find information about the identified area of concern and my proposed solution. Please feel free to provide feedback on this prototype, using questions such as "How might we…", "What if….?", "I wonder….", "I like…", and "I wish." Keep the comments positive, please. For more information on the process of Design Thinking, click https://dschool.stanford.edu/
Eating Disorders, particularly one like  Anorexia Nervosa, has been experiencing an increase in the development of social media and technology. Eating disorders can occur in people of all ages and backgrounds; it doesn't discriminate. But, in the more recent years its taken a heavier toll on the teenage population. Focusing particularly on the teens in South Florida, Anorexia has become overly prevalent, and body image affects 40-60% of the adolescent population. Anorexia is a disorder created by the limitation of food to the body; people are purposefully starving themselves because they see themselves as being "too" overweight.
Every 62 Minutes someone dies from an eating disorder
90% of teens with anorexia are girls
Anorexia is the 3rd most common chronic illness among adolescents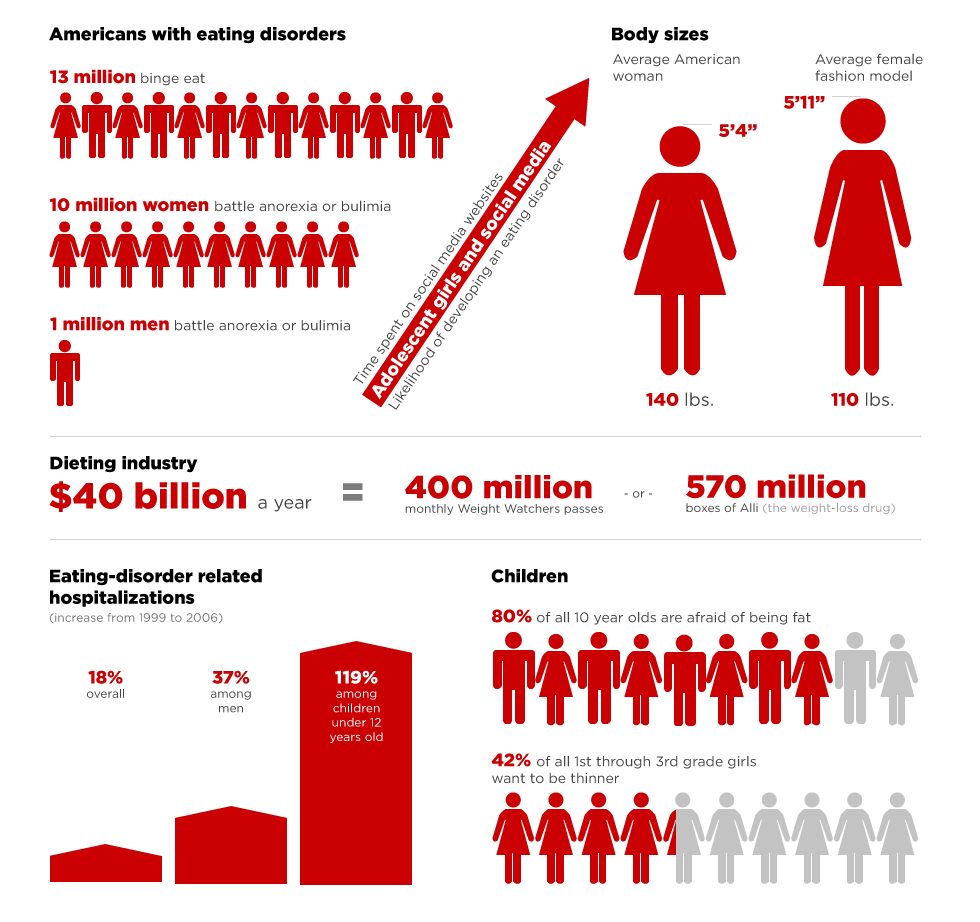 Statement from Students:
Anonymous 1: "It was one of the hardest times of my life because I never thought I would be able to stop. I had always thought that I needed to be like super skinny so I experienced it but I don't support it and don't think anyone else should live through what I did."
Anonymous 2: "I had tried dieting for a while and nothing had been working, so I decided to stop eating completely. It was really hard to hide from my family because we always ate dinner together and they were really observant, so I would need to play with my food until everyone was done so that I didn't have to actually eat it. I almost tried to make myself throw up but I never really pushed myself to that point. I think that my friends were some of the first to notice and they told my parents and it started the process of recovery, which was a long and hard one. I do think about starving myself sometimes, even today
because I do want to look like the models that I see on Instagram but not everyone can look that way."
Anonymous 3: "Growing up in Miami and in a Hispanic household never made me think that it was possible for me to experience Anorexia. I had always seen it in movies or tv shows and there were some girls at school that I thought had Anorexia but I wasn't sure. But for me, it was freshman year when I started my first day of high school and looked at the girls around me, and saw that a lot of people had lost weight over the summer and had gotten super tan and pretty and I was just so jealous. So I started to cut things out of my meals and created a really strict diet. But over time I just stopped liking the foods that I had picked out for myself so I stopped eating altogether. My mom had noticed my body changing when we would go shopping like my wrists had started to look really boney and my ribs were more pronounced and sometimes I looked in the mirror and thought I looked great but other times I looked at myself and saw this like skeleton. So my mom took me to a doctor who recommended some therapy and a correct eating schedule. It took a while for my body to accept the taste of food again and want to consume it but it really helped to have my family there to support me."
At my high school, there have been initiatives to spread awareness about eating disorders and other topics through programs like Health Information Project (HIP). I believe that involving schools with programs like these, bringing people to speak about their experiences with the disorder or even just starting the conversation in classrooms can be the change that is needed to stop the growth of deaths by eating disorders.
Any comments, concerns, or even suggestions on how to create this much-needed change feel free to comment/contact me.
SOURCES CITED:
"Anorexia Nervosa." Wikipedia, Wikimedia Foundation, 22 Apr. 2018, en.wikipedia.org/wiki/Anorexia_nervosa.
"Eating Disorder Statistics • National Association of Anorexia Nervosa and Associated Disorders." National Association of Anorexia Nervosa and Associated Disorders, www.anad.org/education-and-awareness/about-eating-disorders/eating-disorders-statistics/.i.cdn.turner.com/cnn/interactive/2012/03/health/infographic.eating.disorders/eating_disorders_2.gif.movietvtechgeeks.com/wp-content/uploads/2017/12/eating-disorders-statistics-breakdown-neda.jpg.
popsugargirlsguide. "Heartbreaking Video Shows What Eating Disorders Really Look Like." YouTube, YouTube, 28 Feb. 2016, www.youtube.com/watch?time_continue=89&v=CVifJ6I-i7g.
"Teen Anorexia Statistics." Teen Help, 24 Feb. 2016, www.teenhelp.com/eating-disorders/teen-anorexia-statistics/.
watchcut. "Fat | Eating Disorders | One Word | Cut." YouTube, YouTube, 22 Feb. 2016, www.youtube.com/watch?time_continue=149&v=UWXwIPs-xWg.